Since the average man is expanding his horizons of comfortability with new style, so have designers in being able to produce great new items that further push these horizons. Sport coats made of sweater fabrics, shirts in lightweight suede, to suiting fabrics combined with leather on a classic pair of shoes.
Now, corduroy isn't a very radical fabric option; its one of the best cold weather fabrics out their and an excuse to wear cotton during the colder months, but it's usually not reserved for a suit. Say no more, as the whole menswear spectrum is embracing the corduroy suit, from luxury boutiques to The Gap! The most exciting part of it all are the range of colors that are out there, which allows for more adventurous tones than the run of the mill tan.
To that point, one of the greatest qualities of corduroy is the effect it has on colors, adding a luxurious depth that brings a dull shade to life while elevating the brighter ones. Fit is key, as it is with any suit, but corduroy calls for a more tailored fit to take down any heft that the fabric innately has. One way to mitigate this characteristic is to get a fine wale cord, taking the suit from 70's IBM cube warrior to 21st Century neophyte.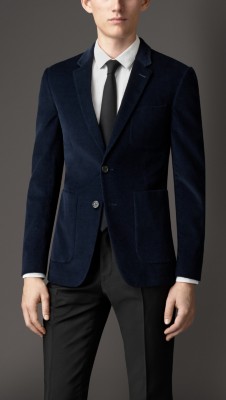 Burberry: $1290 (Jacket $995 & Pants $295)
Check in tomorrow for a fashion piece that deserves your consideration and next Wednesday for another essential style piece!